Security Update!!!
There is a new security patch, please apply update as soon as possible. How to apply update? Make a full backup of the current installation, download, extract and overwrite the new update over the existing installation, run the following on your CMD terminal to apply update:
php artisan update:apply

Important! If you are going to be handling large sums of money with this system, you need to contact us to help you integrate with BitGo withdrawal approval system, this will add an extra layer of security to help protect against attack/withdrawal of large sums. Customization fees apply.

Live Preview Credentials (SuperAdmin)
Username: SuperAdmin
Password: 12345678
Email: [email protected]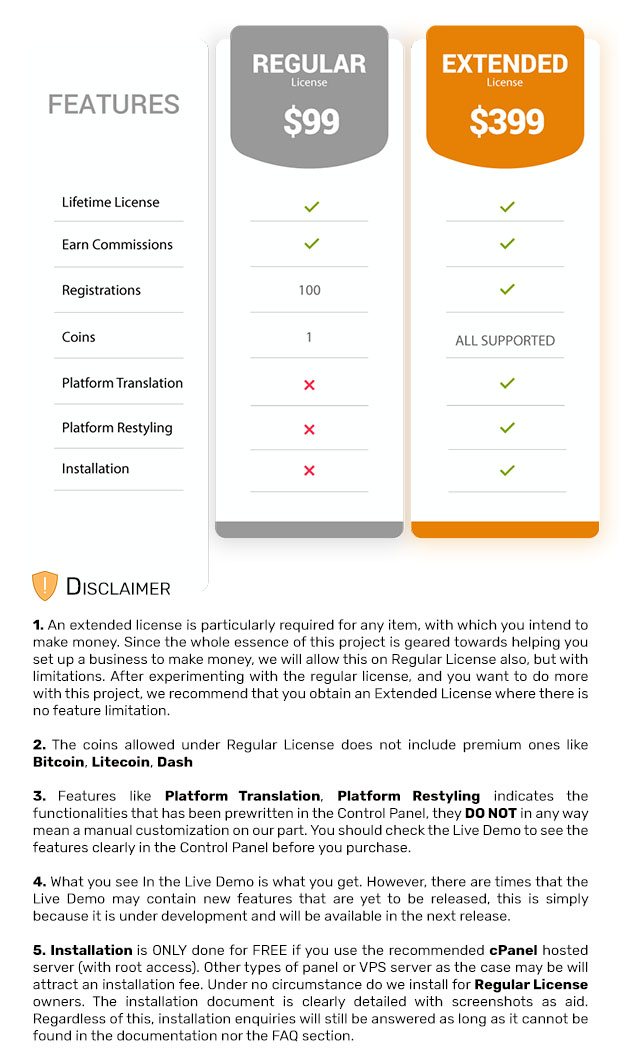 About
Crypterion is a multi-featured peer to peer, self hosted CryptoCurrency exchange platform, with a responsive and customizable design. It supports self hosted wallets (powered by BitGo Services), with which you get to provide free wallet service along side peer to peer interactive exchange.
Only a few coins provided by BitGo are supported at the moment. However, we can integrate it with your custom coin upon request, provided you have a reliable API service to integrate with.
Here, you will find all the necessary information as regards to what the script can do, change logs, disclaimer, and important announcements. If you would like a quote on customization of the system, please reach us on our official WhatsApp.
License Plans
Regular License
Lifetime License
Earn commissions
Limited to 100 users
Limited to 1 coin (excluding Bitcoin, Litecoin, Dash)
No API Support
No Platform Translation
No Platform Restyling
Extended License
Lifetime License
Earn commissions
No limitation
With Installation
Features
P2P Trading
Peer to Peer (P2P) exchange system matches buyers and sellers, with an interactive chat system, users are able to trade with each other. Similar to popular exchange platforms like LocalBitcoin, Paxful, e.t.c. Sellers or Buyers are to set their own prices and payment method they accept, the system does not process the payment methods on behalf of the trading pairs, but depends on a dispute system in the event of conflict of interest. The system serves as an escrow internally to hold the coin on behalf of the trading pairs, and is released upon agreement of both parties. Dispute are expected to be resolved by appointed moderators and after a successful trade, a specified percentage fee is credited to the Super Admin's account.
Geolocation
Users' country of origin are identified with their IP addresses. This encourages multi-national trading, and it is used for personalizing search results.
Contacts
Each users are able to keep catalogues of their most trusted traders. This gives a faster access to their offers, restrict visibility of private offers, e.t.c.
Multi-coin Support
It supports multiple coin system, with which you are able to provide free wallet services to users (powered by BitGo). However, in case you have a preferred crypto API services you would like to use, do send us a customization request, we will respond accordingly.
Platform Customization
It supports a flexible customization system with which you are able to change color patterns to match your brand, choose from 5 of our preset layouts, set a dark or light theme, e.t.c.
Both User Area's home page and Admin Area's home page are Widget driven and can be rearranged in your preferred order. New widgets will be added with updates and you are able to enable/disable according to your preference.
Email & SMS Notification
The platform supports both email and sms notification system. Users of the system are allowed to choose which notification they can receive. In the control panel you have the option of setting the messages that should be sent for each notification.
Presence Status
Users presence status are updated in real-time. They can be either online, away or offline at any point in time. This is indicated in their profile page, chat and offer display.
Two Factor Authentication
Two Factor Authentication is included to provide an extra layer of security to users. This can be setup with Google Authenticator or Authy application.
Phone & Email Verification
It supports Phone & Email verification, which can be done in user's settings. More verification system like KYC, AML will be released in one of our next updates.
Multi-language Support
It supports multi-lingual setup which is located in the Control Panel section. This allows you to change language files, add new locales e.t.c. directly in the Control Panel. After changes have been successfully made, users will be able to see the localized version of the system.
Disclaimer
Before you purchase, please go through the Official Documentation and make sure that the installation procedure is comprehensive enough. You will not be entitled to a refund as long as the project works as it is described.
A few set of files of the full source code you get after purchase, is encoded. This DOES NOT contain the application frame like Laravel Controllers or the full React JS source code, which you are able edit as you wish. We have only encoded these files as an anti-theft mechanism which will protect the integrity of legit businesses from unnecessary competitions which arises from unlicensed usage of this script.