Connect – The Perfect Solution to Connect & Collaborate
FOR LIVE CLASS, MEETING, WEBINAR, ONLINE TRAINING & WEB CONFERENCE
Connect is a Real-Time Communication Web Application with Video, Audio and Screen Sharing Communication. Built on modern web technologies such as Laravel, VueJS and Bootstrap CSS framework, with tons of built-in features and components, it enables users to communicate with others via Video Conference, Webinar, Audio Conference etc. It uses WebRTC for real time communication, using our own Signaling Server as default.
NOTE: To customize the script of this application, you need at least intermediate level web development experience in order to understand few components and strategy used in developing this application. You need to know Web Technologies such as PHP, Laravel, JavaScript and Vue Library. You need to be able to install the pre-requisites of this application.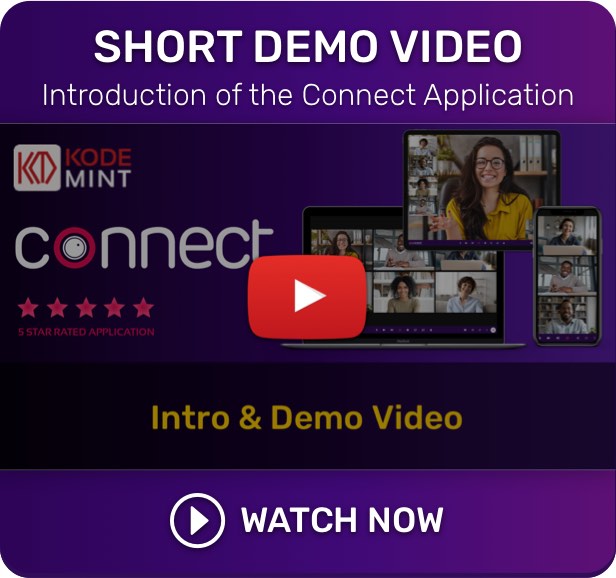 We will be updating regularly with latest version of framework, plugins, features and fixes. Please share your feedback, bug reports and feature requests which we will try to implement in upcoming versions as soon as we can.
HERE ARE SOME POINTS WHICH MAKE CONNECT THE PERFECT SOLUTION FOR YOUR AUDIO & VIDEO CONFERENCING NEEDS.
Built with Latest Version of Laravel (7.x), The Most Popular and Widely Supported PHP Framework
Built with Latest Version of Vue.JS – The Fastest and The Most Starred JavaScript Framework
Easy Installation Wizard and Step-by-step Installation Tutorial Videos
Supports REST API, easy to integrate with other application
Single Page Application, reduces queries to server, decreases loading time, less bandwidth usage and improved user experience
Most Efficient Database Structure, gives scalability to the application
Clean & Simple Coding Structure allows you to customize the application
NOTE: On the Live Demo, if you get error "CSRF TOKEN MISMATCH", just close the codecanyon iframe and it will start working.

The demo is located at https://connect.kodemint.in
Login Informations
| Username | Password | | Username | Password |
| --- | --- | --- | --- | --- |
| admin | password | | user | password |
| user1 | password | | user2 | password |
| user3 | password | | user4 | password |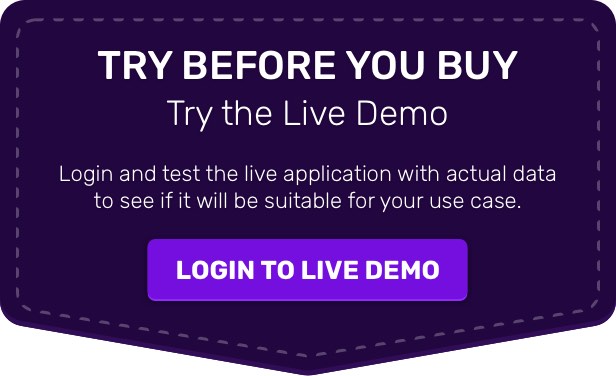 Features Summary
Connect Application is perfect solution for Audio Conference, Video Conference / Live Meeting, Online Classes, Screen Sharing, Live Consultation, Podcasts (Audio Broadcasting) and Webinar (Video Broadcasting) etc.
Check the Usage section on our support page for the usage instructions.
Here are the list of some of the highlighted features:
Authentication
Contacts & Segments
Meetings

Audio Conference
Podcast
Video Conference
Webinar
Live Class
Scheduled Meeting
Screen Sharing

Users
Todo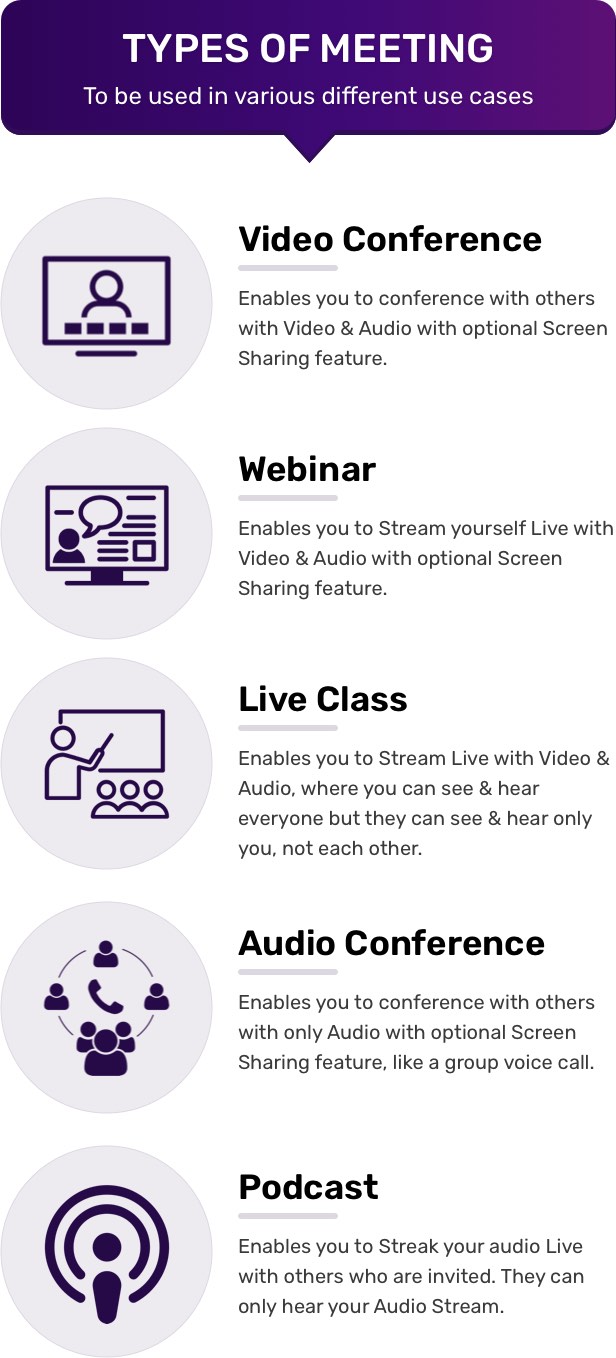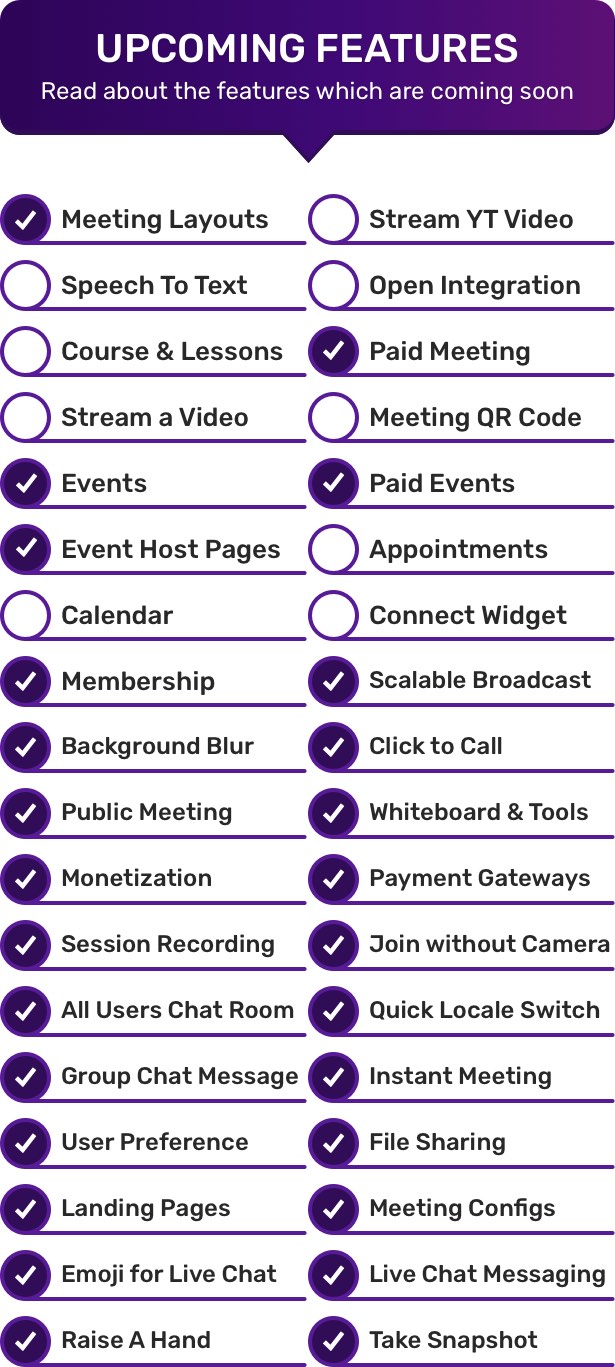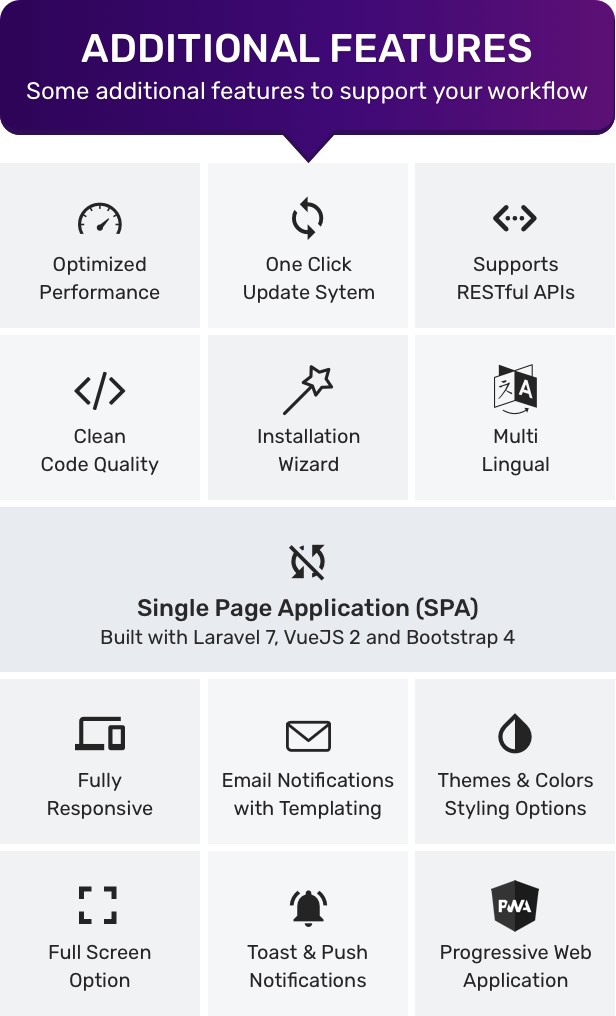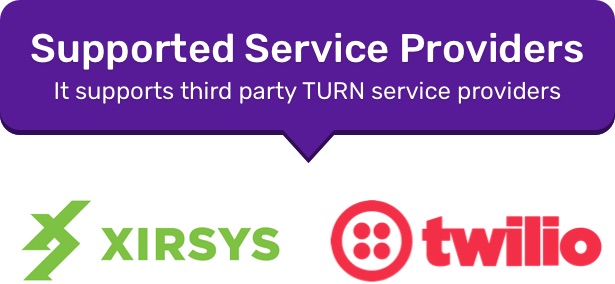 WE ALSO HAVE A STEP-BY-STEP INSTALLATION VIDEO, EXCELLENT SUPPORT TEAM, AND THOROUGHLY PREPARED DOCUMENTATION.


Make sure you read the Support Documentation for Application Server Requirements, Installation Prerequisite, on how much attendees Connect Application can handle and other useful topics.
PHP >= 7.4 (for CLI and Web both)
PHP Extensions Required
OpenSSL
PDO
MBString
Ctype
JSON
XML
MySQL Native Driver
GD Image Library
Zip Archive
cURL (7.70+ version)
For Database:
MySQL >= 5.8
NOTE: MariaDB >= 10.2.8 is usually the prerequisite of the our application, but for some reason it is causing errors when using MariaDB. Please use MySQL instead of MariaDB for now!
Additional Server Requirements
allow_url_fopen enabled
SSL Installed on the Server
Other Requirements
Pusher API Credentials
Signaling Server (by default it uses KodeMint's Free Signaling Server)
STUN / TURN Server